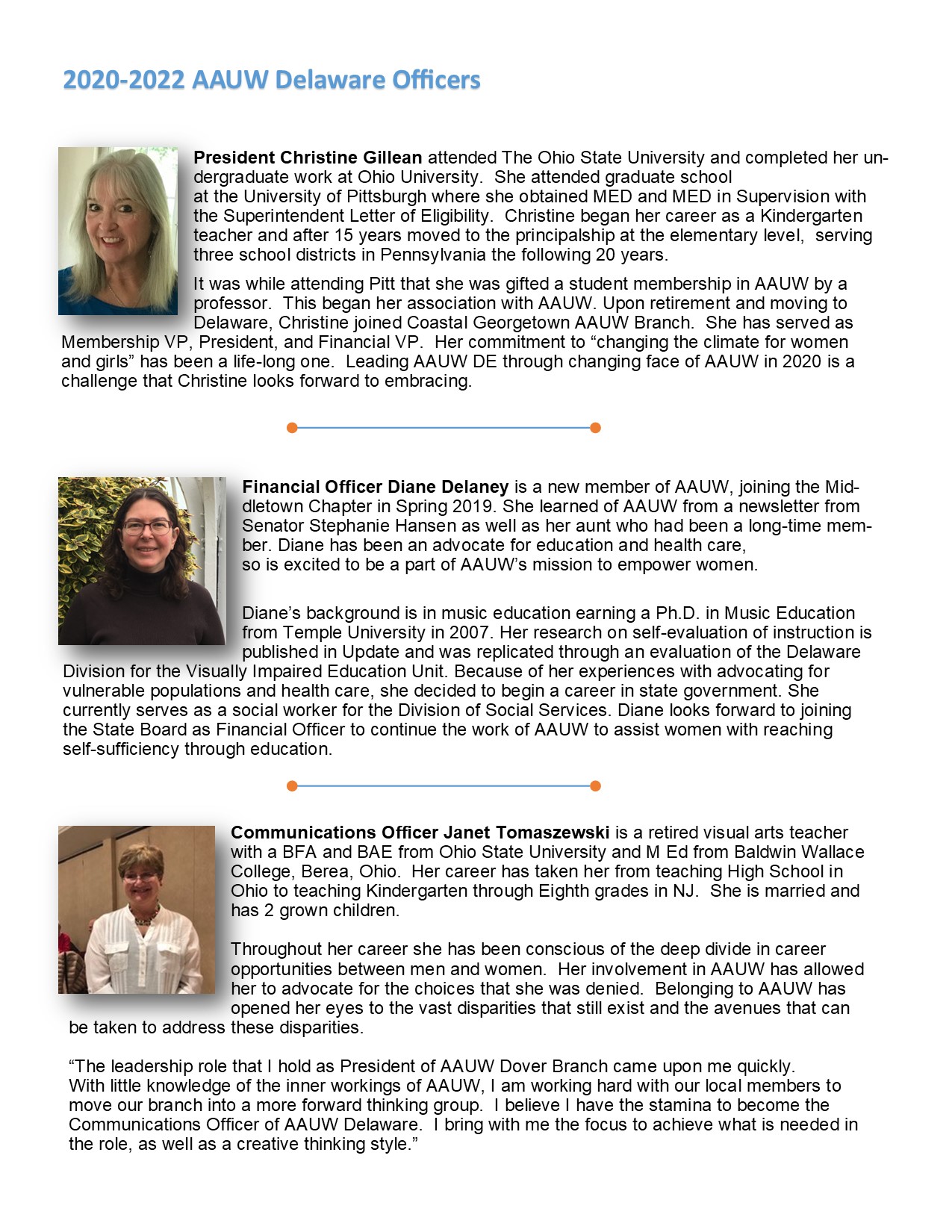 Learn how to negotiate your salary at a virtual workshop. Even if you're retired, you can offer advice to your daughters and granddaughters! Go to https://salary.aauw.org
Click below for branch scholarships.
2 Dover SCHOLARSHIP application – 2019
1 Western Sussex Branch Scholarship Offerings 2019
1. Know Your Rights: The Equal Pay Act
Despite the passage of the EPA 55 years ago, women still do not take home wages equal to
those of their male peers. If you're concerned that you may be a victim of sex-based pay discrimination, or if you just want to know more about how the EPA works, this resource covers the basic information to get you started.
Image Link: https://www.aauw.org/files/2013/03/JFK-photoWHP-AR7965-D-600×320.jpg
Image Caption & ALT-text: AAUW members Minnie Miles (front row, fourth from right) and Reps. Edith Green (left of president, in white suit), Martha Griffiths (second from right), and Julia Hansen (far right) with President John F. Kennedy as he signs the Equal Pay Act into law on June 10, 1963. CREDIT: Abbie Rowe, White House Photographs. Courtesy of John F. Kennedy Presidential Library and Museum, Boston
2. Take the Pledge to Protect Title IX
June 23rd marks the 46th anniversary of Title IX. Help fight back against attacks on the Title IX by pledging to take part in AAUW's upcoming campaign to protect Title IX.
Image Link: https://www.aauw.org/files/2017/10/LoveTitleIX-220×130.jpg
Image Caption & ALT-text: Fillable "I Live Title IX Because" signs at an event for Senator Harry Reid
3. Still Separate, Still Unequal: The Role of Black Women and Girls in the Legacy of Brown v. Board of Education
More than sixty years after Brown v. Board of Education of Topeka, in which the Supreme Court ruled that state laws segregating schools were unconstitutional, schools are more segregated than they were in 1968 (approximately 75 percent of black students attend racially segregated schools), and black girls have suffered greatly as a result.
Image Link: https://www.aauw.org/files/2018/05/Washington-D.C.-Reading-lesson-in-a-Negro-elementary-school-LOC.jpg
Image Caption & ALT-text: Washington, D.C. Reading lesson in a Negro elementary school. Public Domain. Library of Congress.
4. Broken Ladders: Barriers to Women's Representation in Non-Profit Leadership
Women's equity in the workplace has been a focus of the American Association of University Women (AAUW) since our founding in 1881. And while great strides have been made, women are still largely excluded from the most powerful corporate positions in our economy. For Instance, the Fortune 500 list of the largest American corporations recently reached a historic high representation of women CEOs at just 6.4 percent, or about 1 in 15. Women in these companies fill only about one in five senior management positions.
Image Link: https://infogram.com/1pp09qgk9rqzv7br356nj59lkwsz06g3mlr
Image ALT-text and Caption: Gender Equity in CEO Representation, by Organization budget