Coastal Georgetown
Wilmington
2020-06-23 Maks and Wilm branch
Financial Report
Financial Officer's Report_6.24.20
Newark
Newark Year End Report 2019-2020
AAUW Newark Eleanor Roosevelt Luncheon
The AAUW Newark Branch had their Annual Eleanor Roosevelt Luncheon at Vita Nova Restaurant, October 16, 2017. Members and guests come together to enjoy the great cuisine prepared by the University of Delaware Students Hospitality Team and raise funds for the AAUW Eleanor Fund. We discussed what we know about Eleanor Roosevelt and how important she was and still is to women. and the world as a whole  We gave out gifts that focus on Eleanor Roosevelt and enjoyed a fun quiz to test our knowledge of her life and accomplishments.  No worries if you missed it this year.  We look forward to seeing you next year.
-Sophia Sotilleo, Newark Branch
---
AAUW Wilmington Delaware Branch Featured Speaker
Lora Englehart: Mary Ann Shadd Cary, Delaware's Forgotten Daughter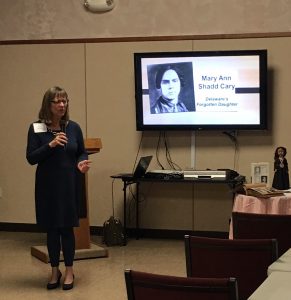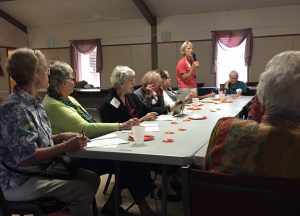 This Oct. 14 program was supported by the Delaware Humanities Forum. Speaker Lora Englehart shared the life and stories of Mary Ann Shadd Cary, an abolitionist, teacher, speaker, lawyer, wife and mother.